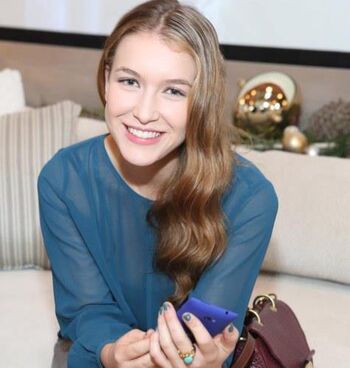 Nathalia Ramos
(born July 3, 1992) is a Spanish-Australian actress. She was born in Spain to a Spanish pop star father (Ivan) and an Australian mother. Nathalia attended North Beach Elementary, Nautilus 
Middle School in Miami Beach and briefly attended Miami Beach High School during her freshman year. She was raised in her mother's Jewish religion (her mother is Sephardic).
She starred as "Hope Loblaw" in "Arrested Development". She played "Yasmin" in the 2007 Tween Comedy Movie, "Bratz : The Movie" where someone else sang for her so please note, it was NOT her singing in the film. She resides in Miami Beach and California with her family and friends. She is close friends with her House of Anubis co-stars. She revealed via Twitter that she will not be returning as Nina Martin for Season 3 because she decided to focus on her studies as a student at USC. She portrayed Nina Martin on "House of Anubis" from Season 1-2.
It is possible if there is a season 4 she might return to "House of Anubis".
Twitter
She is obsessed with buying officie supplies.
When Nathalia went to see "The Lion King" in theaters, she cried through the whole show.
She loves fashing, but when she is feeling lazy, she goes aroung in gym clothes.
She gets a manicure once a week to practice Vietnamese, which she is current ly learning.
She likes to try everything that her friends order at restaurants.
Since high school, her friends have called her "Bounce".
She wishes to start a travle blog because she likes guide books and travel itineraries.
Indented Head, Australia is her favorite destination in the world.
She likes to ride on her beach bike (which has a wicker basket) when a place is close enought that she does n't have to drive.
As a child, she made her cousins (all boys) dress up as Spice Girls (which she was obsessed with) and perform for the adults.
She has one of her dad's ears, and one of her mom's ears.
She wants to have a pig as a pet because it is her favorite animal, bur her mom is continuously saying "no".
When she was filming "House of Anubis", she spend most of her time with her ex-cast member Brad Kavanagh on set because most of their scenes were together.