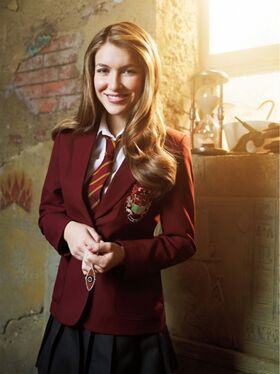 Nina Martin
 was one of the main characters on House of Anubis. She is the Chosen One (Birthday is July 7th; Born at 7 am) and one half of
Fabina
. She had crush on
Fabian Rutter
. She and
Joy Mercer
had rivalry for Fabian and luckily for Nina, Fabian was really in love with her. She and
Amber Millington
are best friends and Amber was a great help to Fabina as she helped to make them a couple. Nina was the protagonist of House of Anubis from Seasons 1-2. She will not return for Season 3. She was protrayed by 
Nathalia Ramos
.
Relationships
Edit
(2011-2012; Best Friends, Ex-Boyfriend)
When Nina first came to Anubis house, Fabian was the only one nice to her. When Nina was told about the mystery from Sarah, she told Fabian first. They became very close friends and shared their first kiss at prom. They are both in Sibuna. (See Fabina)
(2012; Ex-Rivals, Friends)
Nina and Joy didn't have much interaction in Season 1 until the end of Season 1 when Joy revealed that she wasn't the Chosen One (instead it was Nina). In Season 2, they were rivals because they both liked Fabian. At the end of Season 2, Joy had saved Nina and friends from the Senet along with Fabian. They became friends when Joy accepted her relationship with Fabian. (See Jina)
(2011-2012; Ex-Roommates, Friends)
When Nina first came to Anubis house, Patricia thought the she had something to do with Joy's disapperance. They were roommates at first. But then Patricia roomed with Mara and Nina roomed with Amber. But Patricia and Nina eventually became friends. They are both in Sibuna together. (See Patrina)
Mick Campbell
Edit
(2011-2012; Friend)
Nina doesn't really know Mick and they rarely had one conversation.  (See Mina)
(2011-2012; Best Friends, Ex-Roommate)
Amber and Nina are best of friends. They always has each others back. (See Namber)
Ad blocker interference detected!
Wikia is a free-to-use site that makes money from advertising. We have a modified experience for viewers using ad blockers

Wikia is not accessible if you've made further modifications. Remove the custom ad blocker rule(s) and the page will load as expected.