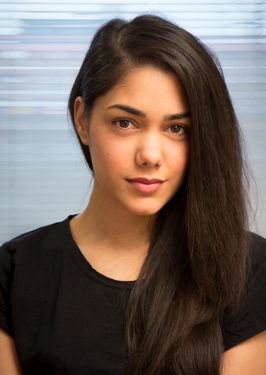 Tasie Dhanraj
(Tasie Lawrence) (born on December 22, 1990) is well known for playing Mara Jaffray in "House of Anubis". Tasie tweeted on January 6, 2013 that after 3 seasons of "House of Anubis", she will no longer be portraying Mara.
Tasie's full name is Anastasia Katya Breeze Dhanraj.

Tasie recently done a song cover with fellow cast member Alex Sawyer 

called "Glory Boy"

.

She was in a band called "The Woowoos", but she confirmed on Twitter that she had left the band because she wanted to go in a different direction with her career.

 She sang a duet called "We Shall Overcome" with cast member

 Brad Kavanagh

. 

Tasie is good friends with cast mate 

Klariza Clayton

.

Tasie is also good friends with former cast member Bobby Lockwood.

Tasie's hometown is Brooklyn (Found this info on Twitter).

"Lawrence" is her stage name. She tweeted about it on the week of January 3rd.

She is Guyanese from her father. (Guyana, South America)

She did a duet with cast mate Alex Sawyer called "Relapse".